Huawei's Folding phone is called Mate X; image leak confirms
After the Samsung Galaxy Fold, now it's Huawei's turn. The Launch of the Chinese Folding phone is just two days away as Huawei has already confirmed its intention to unveil a 5G Foldable Smartphone on Sunday, February 24th at Mobile World Congress.
A banner was originally snapped and posted on a Chinese page first, then got shared later by a Twitter user @gimme2pm which went viral. The photo shows some men installing a banner of the upcoming Huawei Folding smartphone that clearly has Huawei Mate X written on it. The banner also mentions it to be the World's first 5G Folding smartphone.View image on Twitter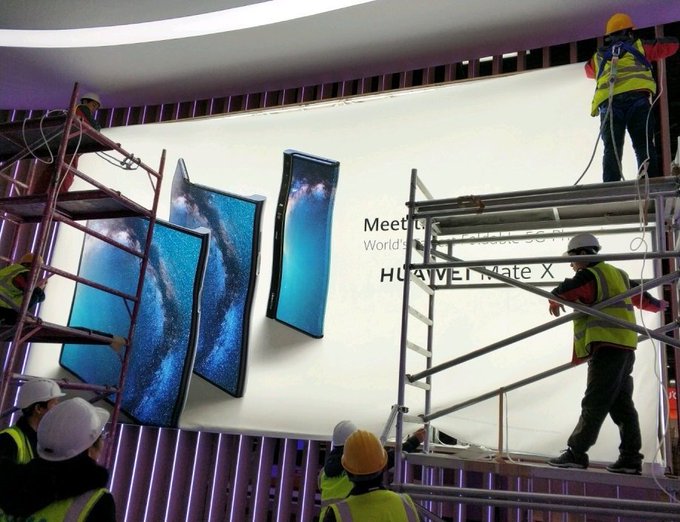 #Huawei #MWC2019 #MWC19 huawei Mate X35810:18 PM – Feb 22, 2019256 people are talking about thisTwitter Ads info and privacy
As expected from the early rumors, Huawei's folding smartphone is significantly different from Samsung Galaxy Fold released earlier this week. Huawei Mate X only has a single display and the structure folds outwards, unlike Samsung's inward-folding display with a book-like build.
Based on rumors, the Huawei Foldable Smartphone is expected to have three cameras and a fingerprint reader on the side. The Unfolded display size of the Mate X would be about 8.0 inches which folds into a smaller 5-inch display, to be used as a phone.
The Mate X is expected to run on Kirin 980 chipset and will also pack a 5G modem. According to Huawei, the new 5G modem can hit up to 6.5 gigabits per second at millimeter wavelengths and 4.6 gigabits in the 6 gigahertz frequency range. So far, the Huawei Mate X frequency support is unknown. The 5G modem will support both, non-standalone and standalone 5G networks.
---
CLICK HERE TO SEE 
Huawei Mate X's Rumored Specs and Expected Price
---
There is no information on the availability schedule for Huawei Mate X yet. Full details will get revealed in Huawei's event at MWC Barcelona on 24th of February, 6 PM Pakistan standard time, so stick around and make sure to check back.